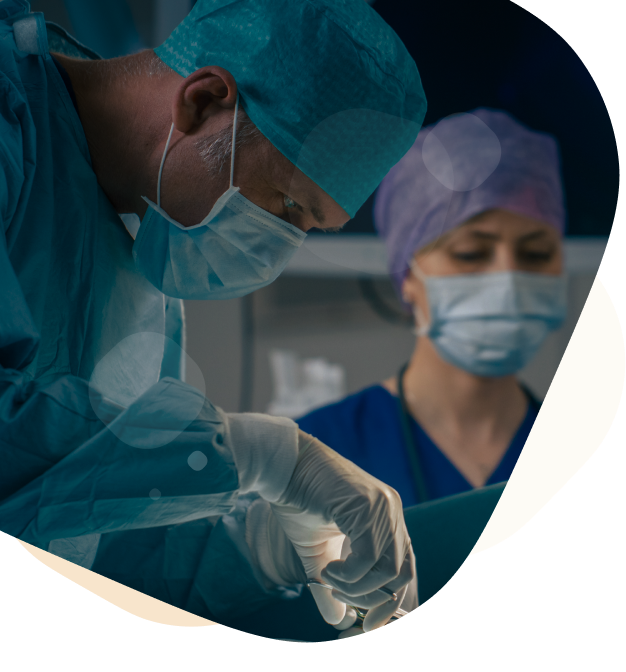 Surgical scheduling software
Grow your surgery center's case volumes while reducing operating costs by up to $55,000 a month-or more
Work smarter with PreferredMD, the affordable physician-designed HIPAA-compliant digital platform for physician credentialing and surgery scheduling.
You manage a team that spends a significant part of their work week on physician credentialing and surgery scheduling:
Chasing down physicians for information and documentation.
Calling insurances for benefits or pre-authorization information.
You're forever recruiting and training staff to help manage the surgery booking process.
When people drop the ball (usually resulting in procedures being canceled or rescheduled) there's no paper trail enabling you to hold them accountable. Which makes you feel like no one's actually responsible for anything - except of course, you.
Surgery Scheduling Is Extremely Labor Intensive
Scheduling a patient for surgery requires the coordination of over 70 unique pieces of information - from multiple sources - all of which need to be tracked and updated right up to the day of surgery.
Pain points
Scheduling is typically done through emails, faxes and phone calls.
If a required piece of information is missed, such as an authorization, PAT, or clearance, the surgery often needs to be canceled and rescheduled.
This represents a significant inconvenience to the patient and loss of income to the surgeon, staff and facility.
The First and Only HIPAA-Compliant Surgery Scheduling Software
PreferredMD streamlines and simplifies the surgical scheduling software process. It's based on intuitive digital forms and available on any device which enables you to seamlessly communicate and collaborate between surgeon's offices and multiple surgical facilities.
PreferredMD Makes Surgery Scheduling Quicker, Easier and More Accurate
Transitioning from paper or clumsy online booking forms to our Physician Designed digital platform will enable you to accurately process more booking forms while reducing associated labor hours and operating costs.
Benefits
No more lost H and P's!
Physicians can easily draft, edit and share surgical booking forms with facilities.
Once shared, dynamic booking forms can be updated in real-time with embedded change tracking and secure messaging.
Look at How PreferredMD Transforms Surgery Scheduling
Anesthesiologist
ASC Scheduler
Pre-op Nurse
Vendor Rep
Materials Manager
ASC Financial Materials
Office Biller
Office Surgical Scheduler
Office Manager
Physician
Patient medical history
Billing
ASC credentialing
Pre-auth
Benefits verification
Pre-auth verification
Vendor management
Device
Book a Surgery in Minutes - from Any Device
Book a surgery in mere minutes - from any device with customizable procedure templates.
Effortlessly keep vendor reps in the loop with automatic notification when case details are updated or changed.
Quickly confirm surgeries and generate accurate insurance payment projections with a shared booking dashboard and benefits verification functionality.
Hours
Save An Average of 70 Labor Hours a Week
Patients are automatically invited to securely share their medical histories and lab results on the booking form - no more playing phone tag and wasting hours on pre-op calls.
All data is stored in one highly-secure centralized location, assuring accessibility and continuity.
Use the time you save with PreferredMD to focus on what matters most - delivering excellent clinical care and a great patient experience.
Save Up to $55,500/Mo.*
What a Typical Surgery Center Spends Each Month on Physician Credentialing and Scheduling
Without PreferredMD
$69,400
These are hypothetical savings only. Your actual cost savings will vary.
* Assumes 4 Operating Rooms, 40 Surgeons
** Includes cost of PreferredMD monthly software subscription
Grow Case Volumes with Our Built-In Referral Engine
PreferredMD can help you grow case volumes, as surgeons utilize the online appointment scheduling widget and 'refer a patient' feature directly from their dashboard.
Find a Physician
PreferredMD arranges access to the finest physicians. Search by specialty or condition to find a top rated physician in our network, read the reviews, and select the specialist that best suits you.
Book an Appointment
You will receive concierge class scheduling and process oversight. Use our secure platform to select your Physician, schedule or change appointments. To expedite check-in, you can receive instructions and complete intake forms online prior to your appointment.
Successful Consultation
Use the secure PreferredMD platform to review test results, notes, and communicate with your Doctor or surgical facility. Other patients would love to know about your experience. Please help others find your physician by writing a review.
Get Up and Booking with PreferredMD in About 24 Hours
No upfront fees
or implementation costs.
Train as many users as you want
with no upcharge.
Online training and support are included in your monthly subscription.
Join Our Enthusiastic, Fast-Growing User Community
Request demo