PreferredMD is the premier Out of Network Health Insurance Verification Service in the country. If your out of network medical practice is looking for a solution to out of network health insurance benefits verification, PreferredMD can solve your problem.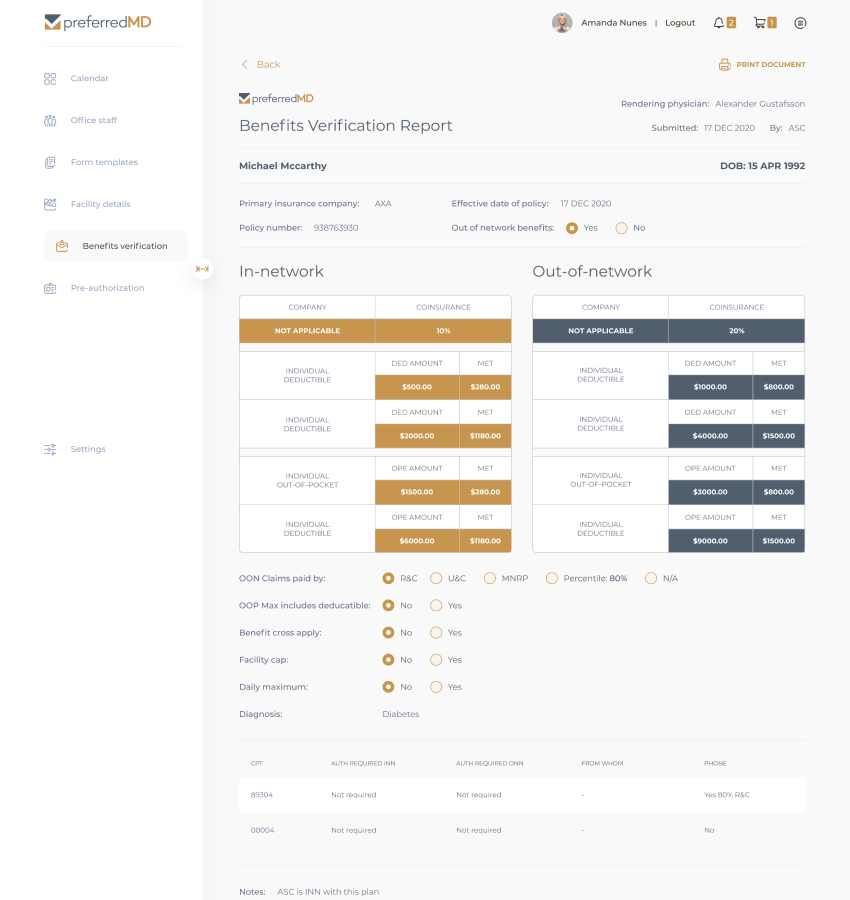 The most frustrating and time-consuming task confronting medical professionals and patients alike is that of obtaining health insurance benefits eligibility and benefits verification. In addition, the necessary next step once eligibility and health insurance benefits are confirmed, is obtaining prior authorization-precertification for a procedure. The health insurance benefits verification process can be very time consuming and difficult.
Gone are the days when all Oxford plans typically paid the same. Today's health insurance benefits landscape has a multitude of different reimbursement models, such as Usual and Customary (U&C), Reasonable and Customary (R&C) or "a percentage of Medicare" fee schedules. Variables like 'maximum out of pocket' can dramatically change the actual payout of a health benefit claim.
Each of these potential reimbursement models has a different value. It is very important to determine which applies to a particular patient and procedure, in order to accurately inform the patient of their responsibility.
Solutions for
Out of Network Physicians
Many Out of Network Physicians use office staff to call the insurance company to determine the fee schedule for patients with Out of Network benefits. Wait times for health insurance benefits information can vary from 10 minutes to many hours, resulting in wasted time, productivity and diminished quality of patient interactions. Furthermore, the information once the health insurance benefits information is finally obtained, is often inaccurate or at best incomplete.
Keeping up with the changes in third party payers can put significant strain on office staff. Specific training is required for Front desk staff to obtain correct fee schedules, resulting in more lost time. The potential for turnover of trained staff is often an area of constant concern for any private medical practice. How often does your office staff have to stop important work supervising your practice or providing care, to go through training to learn a new process in order for your practice and processes to remain compliant? And then, if they leave? More valuable time and training invested in them is lost.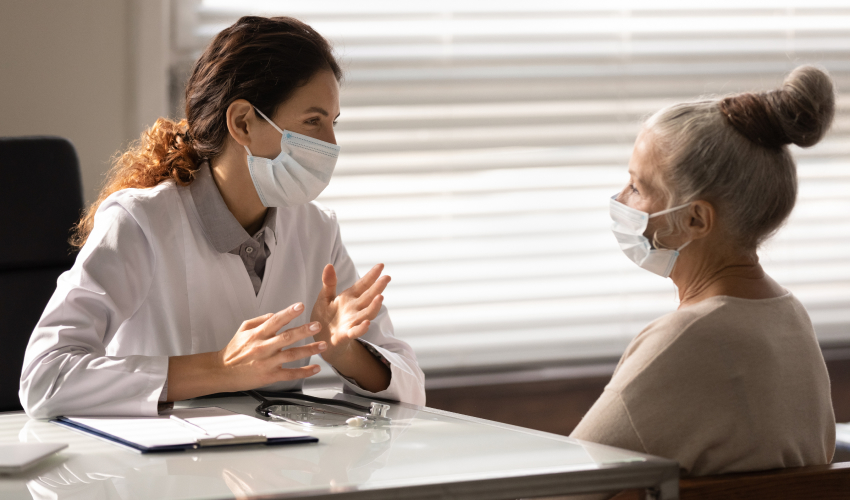 We propose better solutions.
Empower Patients with Accurate Out of Network Benefit Information
Most patients are unaware of the details of their health insurance benefits that they or their Employer has purchased, until they make a health benefit claim. That is usually the moment when they discover that all health insurance products are not created equal.
Some patients, however, are very conscious of their in-network options. Limiting their out of pocket expenses for an Out of Network Provider is usually a priority for them. Knowing precisely how a health benefit claim will pay gives them a clear understanding of their responsibility, so they can make an informed decision, and there is no surprise bill.
A proven health benefit insurance verification process will save your practice time and empower patients to make more informed decisions.
A slogan like 'access to great doctors' is only truly applicable when their policy provides very good out-of-network benefits – as the Doctors they want to see may not be contracted with their or their Employer's medical benefits carrier.
That said, not all out-of-network benefits are 'equal' either. To clarify: a great plan will be one that pays a Physician or medical facility their Usual and Customary (U&C) fees. Out-of-network benefits which payout at anything short of that may require significantly higher out of pocket payment from the patient.
Here are 3 examples of the typical "Out of network" surgeon fee used by insurance carriers for a typical surgery. A patient will usually have one of these:
140% of Medicare Fee (the percentage may vary from 130% to 150%)
90% U&C (90% of the Usual and Customary fee of the surgeon)
60% R&C (60% of the Reasonable and Customary fee of the surgeon)
The type of "out of network" coverage insurance companies stipulate determines the way Doctors are reimbursed. Patients are responsible for the amount the insurance benefits do not cover.
Using a typical knee arthroscopy as an example: The approved Medicare fee for a knee arthroscopy is approximately $644.74
The Usual and Customary fee for a New York City Surgeon for the same procedure is approximately $12,170 (According to data provided by fairhealth.org)
The Reasonable and Customary fee for a New York City surgeon for the same procedure is approximately $7,800 (According to data provided by fairhealth.org)
Assuming the patient's deductible has been met, here are 3 examples of the insurance reimbursement and out of pocket expenses using these fee schedules:
| | | | | |
| --- | --- | --- | --- | --- |
| | OON Bill | Insurance Rate | Insurance Payment | Patient Responsibility |
| 140% Medicare | $12.170 | $644.74 | $902.64 | $11.267 |
| 90% U and C | $12.170 | $12.170 | $10.953 | $1.217 |
| 60% R and C | $12.170 | $7.800 | $4.680 | $7.490 |
It is clear from the above illustration that the out of pocket expense for the patient could be significant depending on the type of out of network reimbursement their Employer negotiated. Your office also benefits from having clear and accurate information beforehand of how the insurance company reimburses for the service. There is less need to collect payment upfront, and your staff can use this information to determine if the patient will receive a balance bill.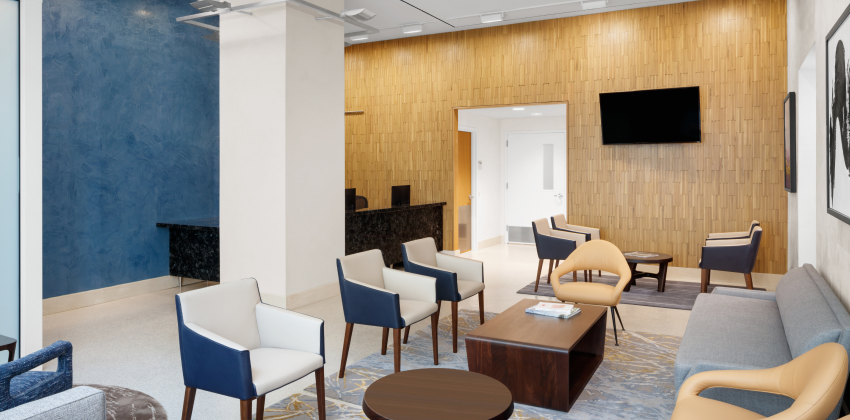 A team that really cares.
The PreferredMD team of specialists can expertly handle the entire health insurance benefits verification process for you. Outsourcing this time consuming and arduous process to our highly trained and experienced team allows you to focus on what really matters to your practice, delivering an outstanding patient experience.
PreferredMd is a secure platform that obtains the patient's health insurance information and provides the relevant reimbursement schedule as well as 25 other elements; such as Deductible and Coinsurance and most importantly a name and reference number for the call. PreferredMD callers provide a report that can be uploaded into the patient's chart within hours of the request.
This timely and detailed information minimizes the adverse consequences that arise when financial responsibilities are not clear to all involved from the outset. Fast and precise benefits verification will have a positive impact on your patient interactions, collections, and reduce the amount of billing that ages and that may ultimately become uncollectible.
PreferredMD Heath Insurance Benefits Verification service is fully HIPAA compliant and secure. Our online service was built on a blueprint designed for data security, practice convenience and improved patient experience.
Frequently Used Out of Network Health Insurance Benefits Terminology
Benefits Verification
Out of Network (OON) Reimbursement
Reasonable and Customary (R&C) Reimbursement
Usual and Customary (U&C) Reimbursement
Medicare Rated (MNRP) Reimbursement
Deductable and Co-Insurance
Balance Bill